COVID has changed the way we work. Working from home became a necessity during the COVID and when the world realized the new mode of working was just as efficient, even more in certain cases, remote working became the new norm. The flexibility and opportunities that remote working offer are too enticing to ignore.
Now, work is done online, recorded through online project management tools, tracked through time tracking software, and discussions and meetings take place through online meeting platforms. This shift in how people work and collaborate has presented both employees and employers with opportunities. For employers, there is an opportunity to hire the desirable talent from anywhere in the world. And for the employees, to expand their horizons and work for international clients.
But not everyone is prepared to land remote jobs. And there are multiple reasons for that. One of the major reasons is that people are not prepared for online interview processes. They don't know what to expect and how to prepare. In this article, we will discuss the best-practices to prepare yourself for a remote job interview.
1. Get Comfortable with the Tech
Traditionally, people are used to appearing in in-person interviews and they find it comfortable. You can sonnet with your interviewer, take notes from their cues and adapt accordingly. While video interviews bridge the gap to a certain extent, it still is not the same as an in-person interview.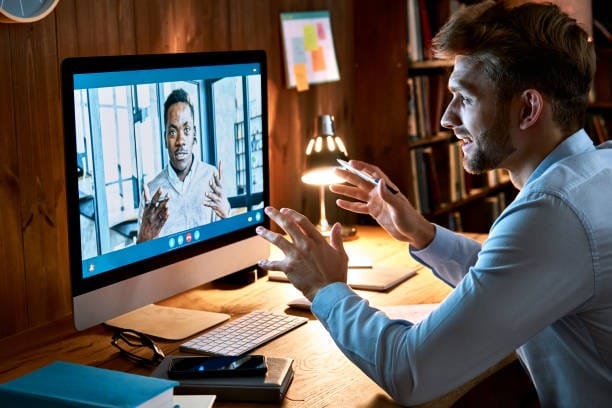 The biggest struggle that people have is getting comfortable with the tech and the remote job interview environment. Most hiring managers will send you meeting invitations prior to your interview. You should look out for the two important things in the invitation:
Time to connect – make sure that you check the time zone

Meeting link – look at the platform and install the application beforehand 
Before the interview, mentally prepare yourself about how the interview will take place. It is better to practice with a mock interview involving a webcam in front of you. You can even ask a friend to act as the interviewer and ask you questions about the job. This will help you get over the fear of facing a remote interviewer for the first time.
In short, have all the information with you, make necessary installs well before the meeting, and practice speaking in front of a camera. Get comfortable with your environment to avoid any last minute confusions.
It is important that you thoroughly research the company and  understand their operations and business goals. Simultaneously, study the job description for the position they are offering you. When you do your homework, you get an idea about the company's offerings and goals, and their requirements of the candidate that they're hiring.
Knowing their requirements, you can align your skill set and demonstrate how your experience is relevant to the job role. It will help the interviewer understand if you are a good fit for the company and also give you an edge over other applicants.
A remote interview is no excuse to show up in your lounge wear. Just like an in-person interview , your appearance is the first thing that the interviewer will see when they meet you online. A professional attire will make you look more serious and confident. A lousy attire sends a negative message to the interviewer. It shows that you're not serious enough about the job to put in any effort. Now that is not the first impression that you want to make.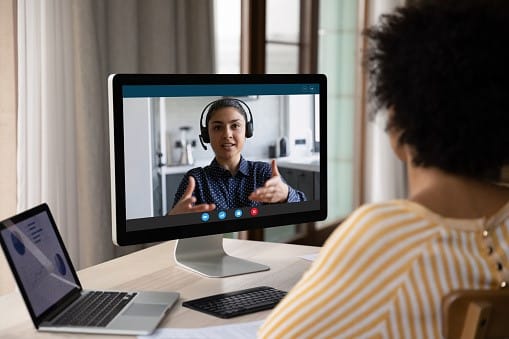 In addition to that, make sure you choose a professional background cover or blur the background. A background with unnecessary distractions will disturb the interviewer and will take their focus off of you.
Experts say 'First impression is the last impression'. Make sure that your first impression is not a lousy one to maximize your chances of landing your dream remote job.
Continuing from my last point about eliminating the distractions in the background, find a quiet place to give your interview. If there is noise in the background, the interviewer may not be able to hear you properly. This can ruin the interview experience. Moreover, you may not be able to answer the questions that the interviewer asks.
So, make sure that you are in a quiet room and free of distractions when giving the interview.
5. Have Fast Internet & Device
Having a fast internet connection and laptop/mobile is absolutely crucial for acing the interview of a remote job. A fast internet connection would mean that the interviewer can listen to your voice and see your video without interference. Moreover, they would also be confident of your availability during work hours. If your internet is choppy, it will lead to confusion during your conversation. Find a place with a great internet connection. It could be your home workstation, co-working spaces, a cafe, a public library, etc. 
Similarly, a fast laptop is a prerequisite to ensure that you can actually do the job remotely with the help of your own device. 
Make sure you use your own device during the interview as well since most interviewers expect technical tests to be taken during the interview. If you are appearing for such an interview, having a fast device will ensure you don't run into technical problems during your conversation.
Many awkward moments have occurred in online meetings where people didn't know that their cameras or mics were on. You would not want any such scenario to occur during your online remote job interview. 
Make sure to test your camera and mic before you start the interview and check if the two-way communication is clear and at both ends. 
A better alternative than testing the camera and mic on your own is to go on a video call with someone you know and get their feedback on the video and voice quality.
7. Set Alarm for the Interview
You would not want to miss the interview at any cost. So, the best way to go about it is to set an alarm for the interview. Doing this will ensure that you get an alert before the interview starts and you are ready for it.
Pro Tip: Make sure you set the alarm at least 30 minutes before the interview to ensure you have all the things ready for the set up.
What if the power goes down? How will you manage your remote job interview in that case? Make sure that your laptop or mobile phone is fully charged. You also need a backup internet device that can connect you to the interviewer if the power gets interrupted.
9. Use Noise Cancellation Headphones
While you can take the interview with the mic of the laptop/mobile device, it makes more sense to have a headphone available. With a headphone, you will be able to cut all the unnecessary noise of traffic, construction, and other usual activities that are occurring on a regular basis in residential areas, especially if you live in the center of a city. Invest in your work tech if you want to land a good remote job.
The biggest mistake you can make in any interview is to not be honest. 
Only talk about the skills you have and translate how these skills can help the organization to achieve their goals.
Clearly tell about your current job details and any proven results related to your position. Most interviewers cross check these details. You would not want such things to create issues for you later in your job. 
11. Present Ideas with Templates
One of the best ways to present your ideas in an interview is with the help of a template. For example, if you are applying for a marketing position, create a marketing strategy template that shows what numbers you can bring to the company and with the budget + effort required. Interviewers love to get the whole summary in a single template as it saves them a lot of time. 
Strategy templates that talk about KPIs also work great in on-job interviews because you directly tell them 'See these are the things I can do and I have the skillset to do that.'
12. Have a List of Your Recent Achievements
In most remote job interviews, you are expected to talk about your recent achievements. Most candidates get confused about this question because they can't recall the achievements at that time.
To avoid such a situation, make sure that you have a list of recent achievements available with you during the interview. When you are asked, you can explain your achievements and present how these achievements can translate to the organization's growth.
13. You too should Ask Questions
Asking questions from the interviewer about their expectations, their goals, company's growth plans etc. shows that you are genuinely interested in the job.
It also helps you develop a better understanding of the company and the position that you've applied for. If you have any specific concerns regarding your job description or company policies, bring those concerns up during your interview. Have a conversation with your interviewer. In almost all cases, interviewers are glad to assist you and answer your questions and appreciate your curiosity about the organization.
Pro-tip: Prepare a list of your questions beforehand so that you're not confused on the spot. Asking relevant and intelligent questions always works in your favor.
To conclude, the objective of a remote job interview is the same as an in-person interview – the interviewer wants to see if you can be a good fit for their organization. But the interview conditions are altered. And to maximize your chances of landing your dream remote job, you have to bring your A-game to the interview.
Test your gear before appearing in the interview, eliminate the distractions from the background (noise, objects, people etc.), use a good internet connection, have a backup connection ready, do your research, and ace that interview! Good Luck!
Download Our
Overseas
Salary Guide